Change How We Think
Sunday, May 24, 2020
MESSAGE SERIES - This Is How We Lead
Welcome to the Empowered Living Church (The ELC). We are celebrating the launch of this new church in our new location as we prepare for our next step. Thank you for being a part of God's victory. Our objective is to save souls, make disciples, and build God's kingdom. We are spending the month of April coming into a collective understanding of how we live a life on mission for God through the Power of Leadership. Click HERE
Watch Online Church
below
Powered by Restream.io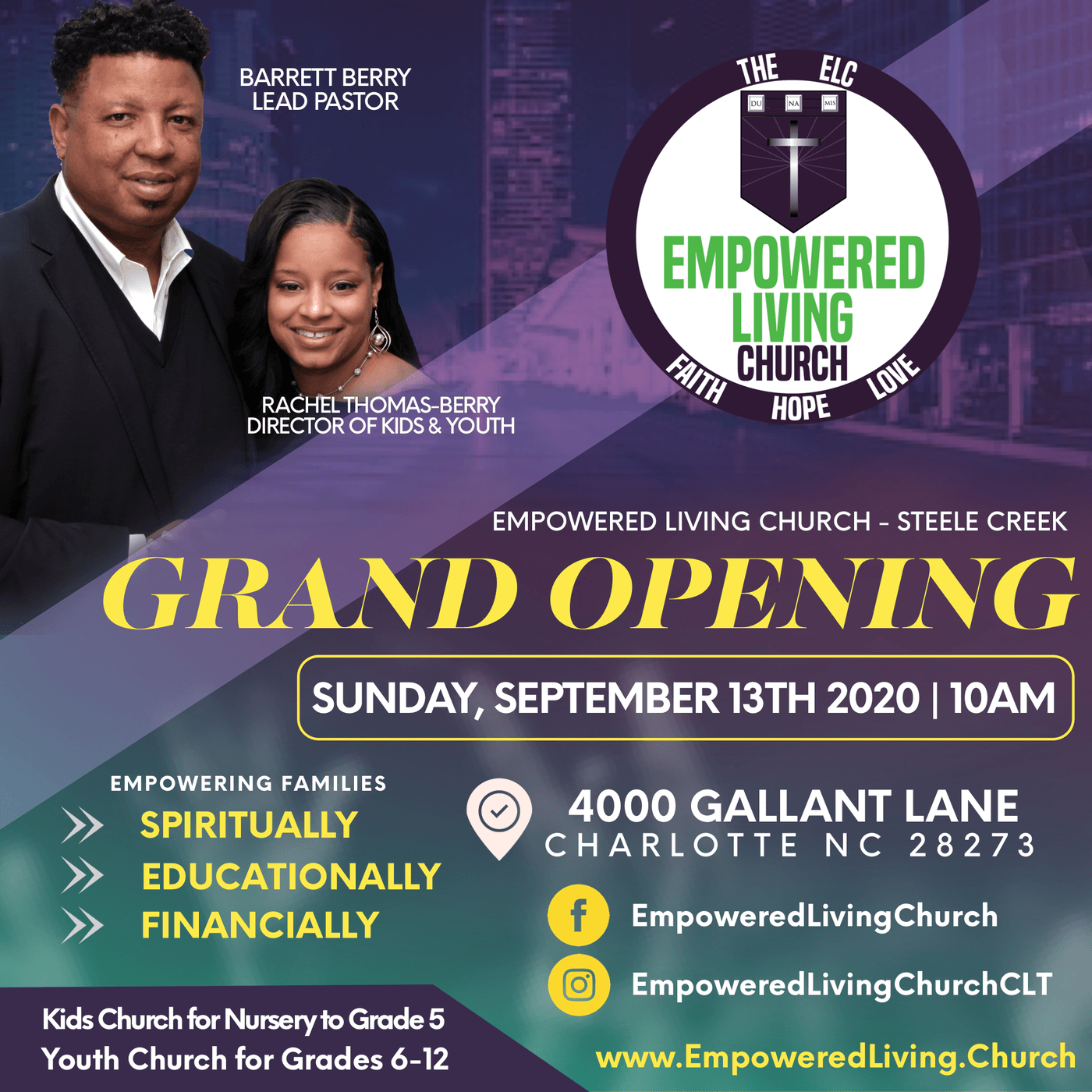 BIG IDEA
Why is it important for Christians to live in authentic relationships with other Christians?
KEY SCRIPTURES ~ Proverbs 23:7 (NIV)
7 For as he thinketh in his heart, so is he: Eat and drink, saith he to thee; but his heart is not with thee.
CONTEXT
1 Kings 3:4-15 ~ 4 The king went to Gibeon to offer sacrifices, for that was the most important high place, and Solomon offered a thousand burnt offerings on that altar. 5 At Gibeon the Lord appeared to Solomon during the night in a dream, and God said, "Ask for whatever you want me to give you."
6 Solomon answered, "You have shown great kindness to your servant, my father David, because he was faithful to you and righteous and upright in heart. You have continued this great kindness to him and have given him a son to sit on his throne this very day.
7 "Now, Lord my God, you have made your servant king in place of my father David. But I am only a little child and do not know how to carry out my duties. 8 Your servant is here among the people you have chosen, a great people, too numerous to count or number. 9 So give your servant a discerning heart to govern your people and to distinguish between right and wrong. For who is able to govern this great people of yours?"
10 The Lord was pleased that Solomon had asked for this. 11 So God said to him, "Since you have asked for this and not for long life or wealth for yourself, nor have asked for the death of your enemies but for discernment in administering justice, 12 I will do what you have asked. I will give you a wise and discerning heart, so that there will never have been anyone like you, nor will there ever be. 13 Moreover, I will give you what you have not asked for—both wealth and honor—so that in your lifetime you will have no equal among kings. 14 And if you walk in obedience to me and keep my decrees and commands as David your father did, I will give you a long life." 15 Then Solomon awoke—and he realized it had been a dream.
TEACHING POINTS / THOUGHTS TO BUILD ON
LESSONS:
One.
Ally yourself with a group of as many people as you may need for the creation and carrying out of your plan or plans, for the accumulation of money--making use of the Master Mind principle.
Proverbs 15:22 (NIV) ~ Plans fail for lack of counsel, but with many advisers they succeed.
Two.
Before forming your Master Mind alliance, decide what advantages and benefits you may offer the individual members of your group in return for their cooperation. No one will work indefinitely without some form of compensation. No intelligent person will either request or expect another to work without adequate compensation, although this may not always be in the form of money.
Colossians 3:23-24 (ESV) ~ 23 Whatever you do, work heartily, as for the Lord and not for men, 24 knowing that from the Lord you will receive the inheritance as your reward. You are serving the Lord Christ.
Three.
Arrange to meet with the members of your Master Mind group at least twice a week, and more often if possible, until you have jointly perfected the necessary plan, or plans, for the completion of goals and objectives.
Hebrews 3:23-24 (NIV) ~ 23 Let us hold unswervingly to the hope we profess, for he who promised is faithful. 24 And let us consider how we may spur one another on toward love and good deeds, 25 not giving up meeting together, as some are in the habit of doing, but encouraging one another—and all the more as you see the Day approaching.
CLOSING THOUGHT/CALL TO ACTION
Four.
Maintain perfect harmony between yourself and every member of your Master Mind group. If you fail to carry out this instruction to the letter, you may expect to meet with failure. The Master Mind principle cannot work where perfect harmony does not prevail.
Romans 12:16-18 (NIV) ~ 16 Live in harmony with one another. Do not be proud, but be willing to associate with people of low position. Do not be conceited. 17 Do not repay anyone evil for evil. Be careful to do what is right in the eyes of everyone. 18 If it is possible, as far as it depends on you, live at peace with everyone.
Proverbs 23:7a (KIV) ~ 7 For as he thinketh in his heart, so is he:
Tithes & Offerings
4 Ways to Give
Securely Online: EmpoweredLiving.Church/Giving
CashApp: $TheELC
Text-to-Give: Text 84321 enter an amount. Find Empowered Living Church
Mail Check Payable to: Empowered Living Church, 2101 Cambridge Beltway Drive, Suite D-2, Charlotte, NC 28273